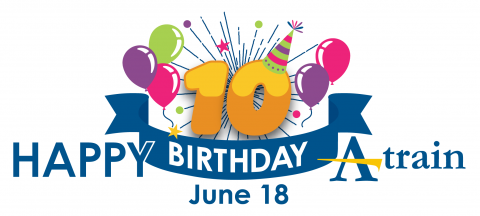 Get ready to celebrate with the Denton County Transportation Authority (DCTA) because the A-train turns double digits this month. To celebrate the tenth anniversary of the A-train being in operation, we at DCTA are planning a virtual birthday party and passengers, stakeholders and the community at large are invited to join in on the celebration.
Visit our birthday party invitation to view all the details about our celebration, read A-train fun facts and download the DCTA Safety Kids birthday coloring sheet.
#RideDCTA Free to Celebrate
We will offer free rides all day on the A-train's birthday, Friday, June 18, with the code word "Happy 10th birthday A-train!" Passengers can say the code word to train personnel when asked to provide proof of fare. The free ride promotion is valid only on the A-train. Other DCTA services will require proper fare. Passengers who transfer to the Dallas Area Rapid Transit (DART) will need appropriate fare for that portion of their trip.
In addition to offering free rides, the agency will also hand out birthday goodies on the A-train the day of the celebration. The treats will be available during morning and afternoon peak commuter times.
Birthday Selfie Scavenger Hunt and Prizes
In addition to free A-train rides, DCTA is also hosting a selfie scavenger hunt, and the two passengers who collect the most points will win a $40 Amazon gift card! You can participate in the scavenger hunt by following the photo guidelines, taking selfies with the provided prompts and uploading them to the provided QR code from Monday, June 7 through Friday, June 18.
The scavenger hunt prompts are below:
Selfie on the A-train (5 points)
Selfie at an A-train station (5 points)
Selfie with an A-train operator (10 points)
Selfie on the train while over Lake Lewisville (10 points)
Selfie with the A-train birthday Safety Kids coloring page (5 points)
Selfie with your special goodies from a DCTA brand ambassador on Friday, June 18 (only available during regular peak commute hours) (10 points)
Selfie on the A-train Rail Trail (5 points)
Selfie at the Downtown Denton Transit Center (5 points)
DCTA will keep track of all submitted photos. Photo submissions will be accepted from Monday, June 7 through Friday, June 18. Any inappropriate images will result in immediate disqualification. PLEASE NOTE: Each photo opportunity may only be completed and submitted once to count towards the scavenger hunt.
For more information about DCTA's A-train tenth birthday celebration, visit DCTADeal.net.